School Photos - Cangle School Photo - Football Team - 1954
Below is a football team photo from Haverhill Cangle School in 1954.

Are you in the photo? If so, why not sign the guestbook below.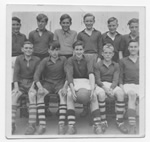 Haverhill Cangle School - Football Team Photo - 1954
[ Click the Image for a Detailed View ]

Back Row - L to R
Phil Hart, Tony Reader, Brian Parker, Bernard Forge, Eric Mayes, Colin Medcalf
Front Row - L to R
Peter Ince, Derick Wiseman, Roland Jacobs, Eric Payne, Ray Shanks

Thanks to Roland Jacobs for sending us the photo.
If you have any more information about this photo why not
contact us
?