Haverhill Roll of Honour WWI
Can You Help Us?
The war memorial, erected by inhabitants of the town through public subscription, was unveiled at an "impressive ceremony" on Sunday 21st November 1920 with "nearly 5000 people present at the Cemetery".
To mark the 90th anniversary of the unveiling a Remembrance Festival was held at the Arts Centre on Friday 29th & Saturday 30th October 2010 which was opened by Gill Hanbury, daughter of Lt. Gen. Sir Charles Briggs who performed the unveiling.
A Roll of Honour, in memory of all the young men of the town who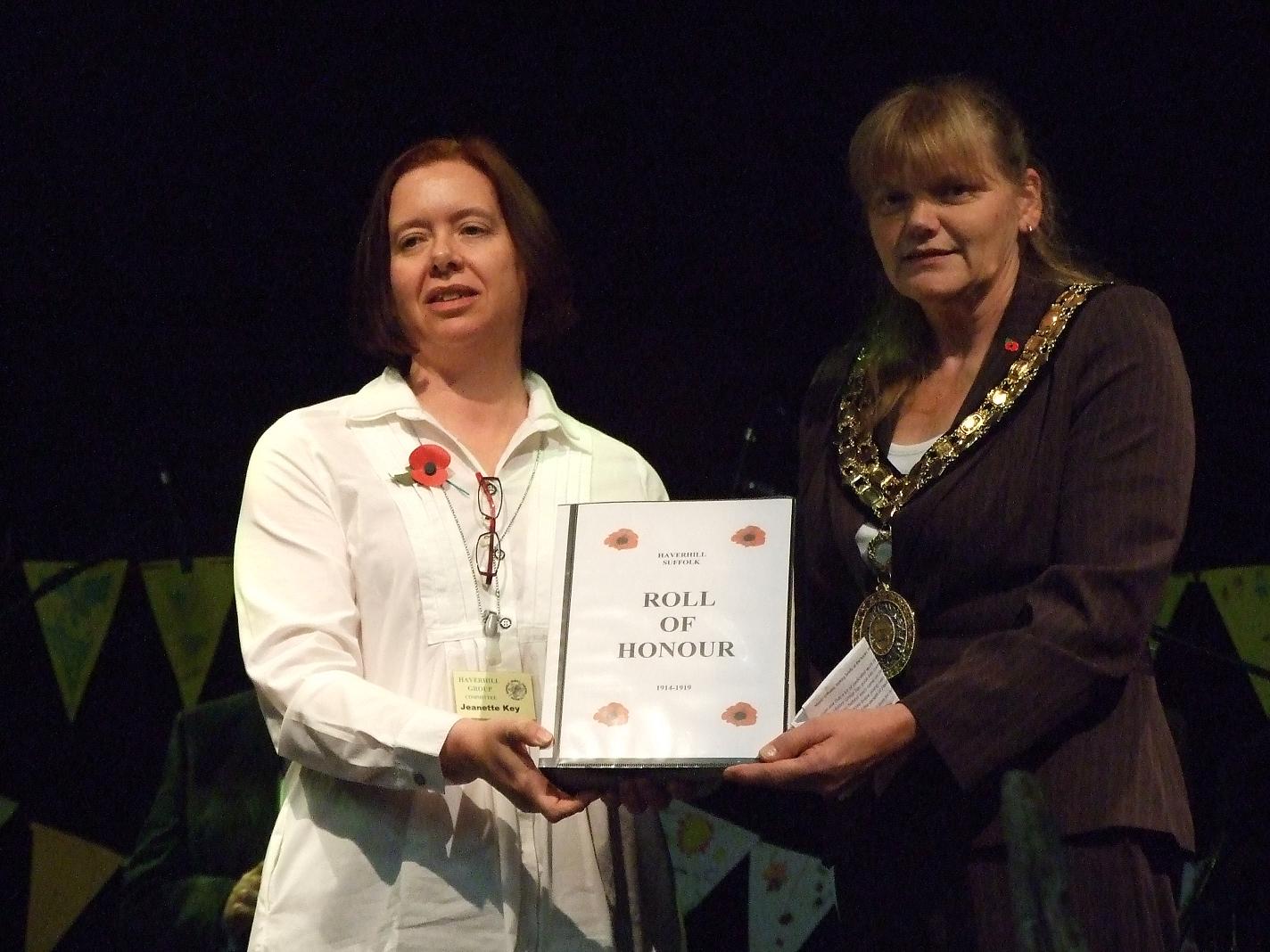 sacrificed their lives in the Great War, compiled by members of the Haverhill Group of Suffolk Family History Society, was presented by project co-ordination Jeanette Key to Haverhill Mayor Elaine McManus (pictured)
People of all ages joined in the moving festival with names of the Fallen; six at a time, being called out followed by a musical tribute every half an hour over the two days. The event concluded with a concert 'In Flanders Fields' organised by David Hart.
Thanks to the contributions of all organisations involved, including fellow organisers Haverhill and District Local History Group, and the support of the public, including relatives of those named, a total of £855 was raised and donated to the RBL Poppy Appeal.
A copy of the Roll of Honour is available to view at the Local History Centre in the Arts Centre building.
Almost all of the 144 names inscribed have been traced but we would still like to find more information about many of the men, including photographs of them or their family and any artifacts relating to them.
If you think you might be able to help please contact Alan Bumpstead, email haverhill@suffolkfhs.org.uk
It is hoped to display the updated Roll of Honour in 2014
The following are the names of the 144 men, as inscribed, to whose memory the cross was erected. (those in Italics were added after the unveiling): -
Percy AGER, Herbert ALDERTON, Percy AMEY, Ernest ANDREWS, Reginald ANDREWS, Frank ARBER, William ASHPLANT, Abner BACKLER, Albert BACKLER, Frank BACKLER, Harry BACKLER, Conrad BACON, Jackson BACON, John BACON,William BARBER, Arthur BEAVIS, Frederick BEAVIS, Cecil BETTS, Horace BETTS, Percy BOYDEN, William BRAY, Arthur BROWN, Clifford BROWN, Frank BROWN,
Harvey BROWN, Hubert BROWN, Jack BURGON, Reggie BURTON, Arthur CHALLIS, Victor CHAPMAN, Fred CLARKE, Albert G. CLAYDON, John CLAYDON, Stanley CLAYDON, William CLAYDON, William Charles CLAYDON, Philip COLLAR, Leslie CUMMINS, Frederick DURRANT, Octavius ELLES, Reggie EVANS, Arthur FARRANT, Arthur FARRANT, Dick FARRANT, Frank FARRANT, Fred FARRANT, Harry FARRANT, Major FARRANT, Stanley FARRANT,

Bertie FIFIELD, Fred FORD, Harry FORD, Thomas FORD, Daniel FREEMAN, Samuel GILDER, Sydney GILDER, Eric GOODMAN, William Frank GREEN, Frank HALLS, William HAWKES, Bernard HEAD, Albert HECKFORD, Ralph HINDE, Ernest HUMPHREY, William HUMPHREY, James Thomas IRON D.S.M, S. (Bob) IRON, John JARRALD, Albert JENNINGS, Arthur JOBSON,
Fred JOBSON, John JOBSON, Stanley JOBSON, Ivor JONES, Merfyn JONES, Charles KIDDY, Ted KIDDY, William KIMMENCE, Harry KING, Clifford LAZELL, Elias LLOYD, Albert LOVEDAY, Albert MALYON, Percy MARSH, James MAYES, Peter MEAD, Robert MIDSON, PemMILLS, Reginald MORLEY, E. NUNN, George NUNN, Harry NUNN, Harry ORBELL, Arthur PARKER, Henry PARMENTER, Alfred PAYNE, Charlie PAYNE,
Fred PAYNE, Reginald PECK, Percy PERRY, Harold POTTER, Charlie PURKIS, Verner RADFORD, Clement RASH, Thomas RICHARDSON, Harry RISING, Fred G. ROBSON, William B. SARGEANT, Ernest SCOTT, Albert SHIPP, Albert SHIPP, Ernest George SHIPP, Harry SHIPP, Walter SHIPP, William SHIPP, Frederick SIGGS, Clifford SIZER, Ernest SIZER, JohnSMITH, John SUCKLING, Ernest THAKE, Alfred THEOBALD, Herbert TUFFIN,
Alexander G. TURNER, Frederick E. TURNER, Harry TURNER, Wat TYLER, Francis VINCENT, Alfred James WEBB, Cecil WEBB, Fred WEBB, Frederick R. WEBB, Jack WEBB, Stephen WEBB, Thomas William WEBB, Tom WEBB, Percy WHIFFING, Philip WHIFFING, D. Spencer WHITING, Ernest WHYBROW, Albert WILLIS, Arthur WILLIS, Sidney WORDLEY, Thomas WRIGHT.