The Old Windmills of Haverhill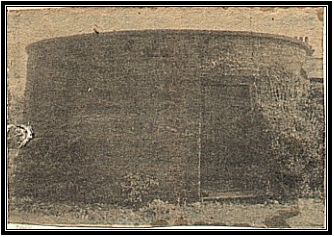 CURIOUS passers-by often stop and stare at what must be Haverhill's most unusual and most historic garden shed standing in the garden of 51 Mill Road. The shed, used by Mr and Mrs Sam Ager, is the base of Haverhill's first windmill.
A circular brick building it boasts as its ceiling the original first floor of the mill including three magnificent beams. Variously called The Mill, Pask Mill and most popularly West Mill it lowly became a garden shed 23 years ago when councilmen demolished the decayed upper storeys and converted it for domestic use. Stripped of its cogs and grinding machinery, it now houses a few garden tools and unwanted household items.
But the mills history is not so lowly. In the 13th century Haverhill was a thriving corn market, but without it's own mill. According to Leo Minster, corn from West Haverhill was transported to Ketton (now Kedington) Mill and from East Haverhill to Sturmer Mill for grinding.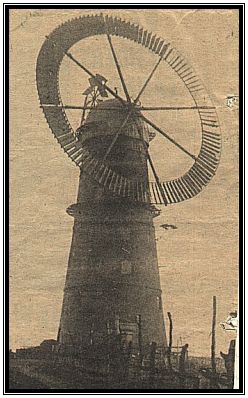 RUFFLE'S MILL
RUFFLE'S MILL was unique and was demolished during the Second World War by the Government as it could be used as a landmark for enemy aircraft.
Several guidebooks, perhaps misguided, list it as the only building of any note to the town. The Mill originally built in 1797, stood by Mill House in Wratting road now (1971) the council rent office. In 1860 a man named Ruffle, had the mill equipped with a circular sail after a design he had seen in France. This sail looked rather like a circular Venetian blind suspended on the rim of eight spokes. It was unique in this country.

Disclaimer:
This article is as printed in "The Haverhill Echo" in 1971. Reproduced for information purposes only.
Thanks to
Mal Thomas
of Perth, Western Australia for suppling the above article.
Page Last Updated : 17 June 2000