Haverhill Chamber Business Awards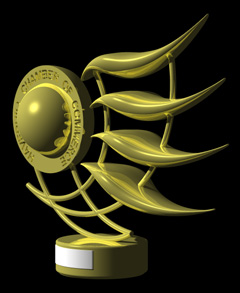 The Haverhill Business Awards 2005 was the first large scale business event to be held in the Haverhill area. The scheme was organised by two local companies,
Gold PR
and
Pure Energy Multimedia
, through the auspices of the Haverhill Chamber of Commerce. The two companies had been directly involved in forming the Haverhill Chamber in late 2003 and organising the Haverhill Chamber launch in February 2004.
The Haverhill Business Awards initiative was an outstanding success and attracted media attention from across the region. The Gala Ball and Awards Ceremony, held on 21st May 2005, was attended by around 400 key representatives from local, regional and international organisations.
The aims of the initiative were to elevate the profile of the town across the region, recognise the innovation, expertise and excellence that exists within the Haverhill area and provide a platform where all of this could be celebrated. The Haverhill Business Awards programme was designed to raise expectations and to be inspirational for the entire community.
Local mayor, Tim Marks, commented: "You have certainly revolutionised the concept of Chambers of Commerce with this glittering event that was very much state of the art and 21st century."
However, the sparkle of the afterglow would have been hugely diminished without the efforts of thedesignoffice - another talented local company - responsible in so many ways for creating the very contemporary face of Haverhill Business through their photographic documentation of events following the launch of the chamber. They recorded each milestone and provided a spectacular record of the Gala Ball which can be viewed across the chamber website.
In addition, other members of the chamber committee who supported the project from its inception through to its culmination were Paul Donno, chairman of the Haverhill Chamber with his team at Paul Donno Accountants, most notably Kay Steele; Paul McGurl of Risk & Safety Solutions and Steve Abbott of JCS Computers.
Finally, and this bears testamony to the generosity of the local business community, the scheme was always intended to ultimately benefit the work of our local hospice at Bury St Edmunds. St Nicholas' Hospice provides care for so many patients from the Haverhill area. We hope monies raised from the Haverhill Business Awards 2005 will make a difference.
Last words go to the winners, finalists, sponsors and guests:
"It was an ambitious project and I was very impressed by the superbly well organised and executed evening - it ran like clockwork. Everyone I spoke to were equally enthused by what was achieved; this has set a very high standard for future events.
Genzyme were proud to be associated with the awards by providing sponsorship for the Best Marketing Strategy and we were absolutely delighted to have won the Business of the Year Award Thank you for a memorable evening."
Simon Cousins
Vice President, Genzyme - Haverhill
Winner - Business of the Year
"Just to say 'Thank you' for Saturday night. I know it must have taken an awful lot of hard work to arrange something that good, but it was a brilliant night and has hopefully put Haverhill business in the limelight for all the right reasons!"
Tania Watson
Director, Paragon Signs
Guest
"Just thought I would send you a quick note congratulating you on a superb display on Saturday night. I thought it was very professional and a lot of fun. So well done..."
Matt Bradney
Director, Atrium Active
Winner - Customer Service
"Saturday was a great night - really enjoyed myself! I think that the Business Awards and all your work is really beneficial to the Town. My old head of 6th Form at Castle Manor was there with Madeline Viger - and they have asked me to come into school and speak to a few of the kids sometime, as an example of how you can "be successful"
Becky Thomas
Thurlow Countryside Management
Winner - Environmental Award
"That was a wonderful event. Congratulations."
Daniel Nabarro
Chairman, Figleaves.com
Winner - Best Use of Technology
"A short but heartfelt note to thank you and all your colleagues for the splendid inaugural Ball on Saturday. It was very slick and professional and a great advertisement for Haverhill (as well as a good night out!) You have all done the town and chamber proud."
Nic Rumsey
Managing Director - Haverhill Business Park
Sponsor - Best Small Business
"Congratulations on a splendid Gala Night. It was an exceptional event. A worthy tribute to all the hard work and dedication you and your colleagues have given the Haverhill Chamber over the past year."
Howard Jackson
Editor - Clare Focus
Finalist - Business Person of the Year
Related Stories on Haverhill News :